Why Turkey?
Turkey has become an emerging country to invest in for foreign investors of all industries with
its ever-growing economy, geostrategic value, and unrivaled opportunities it has to offer.
Located on two different continents, Turkey serves as a bridge between the East and West, North and South axes. This characteristic of the country brings a significant advantage in terms of logistics and workforce, making Turkey a robust investment center with reasonable costs for thriving markets
Turkey's geographical advantage provides rapid access to a population of 1.5 billion including those of Europe, the Middle East, North Africa, and Central Asia, and to a market worth more than USD 20 trillion. As it is surrounded by sea on three sides and has constantly developing railway and highway lines while Turkish Airways flies to 255 destinations in 122 countries, the passenger transportation and freight shipment integratedly support commercial activities.
Turkey is Europe's third-largest country in terms of a qualified workforce. The youthful population in the country is the major reason for the growth achieved in the workforce and Turkey's strong position in the labor market, which is better than in many countries.
Turkey broke a new record with regard to the economic growth it experienced between 2003 and 2008 and rose to 13th place among the world's largest economies in 2018 from 18th in 2003. (Source: IMF World Economic Outlook Report, April 2019 (IMF WEO)  )
Turkey Facts and Figures
Let's take a look at the advantages a foreign investor benefits from when starting a business in Turkey.
Productive and Qualified Workforce
01
Turkey ranks higher on the list than many countries regarding the highly educated and competitive workforce it has. As of 2020, approximately 1 million undergraduates graduate from more than 200 universities every year. The workforce in Turkey experiences the biggest growth among the EU countries as it becomes more and more productive every day.
Extensive Incentive Programs
02
Turkey offers highly extensive incentive programs for investors where they benefit from low taxes whether they seek to expanse their investments or start one. Hundreds of leading global companies in automotive, energy, and retail industries take advantage of competitive R&D incentives. Additionally, companies established in Free Zones located in many areas in Turkey are exempt from tax.
Liberal and Innovative Investment Environment
03
Compliant with international standards, the investment regulations encourage foreign direct investments and protect the rights of the investors. Various laws and implementations provide an environment where all investors share equal rights. Even though the country saw a decrease in foreign direct investments in 2020 due to the COVID-19 outbreak, the figures of the past 18 years illustrate an increase of approximately fifteenfold in the number of companies with international capital in Turkey. Particularly İstanbul has become a strong attraction center for foreign investors.
Uninterrupted Reforms
04
Thanks to the reforms introduced in the fields of innovativeness of production, the sustainability of growth, qualified workforce, and collaboration in the international market, the average time period required to start a business shortened to 6.5 days from 38.
Huge Domestic and Regional Markets
05
In addition to its expanding domestic market, Turkey also offers access to approximately 1 billion consumers in the regional market with the support of free trade agreements.
Strategical Location
06
Turkey serves as a regional headquarters for international companies who aim to expand to different markets.
Demographics
07
Half of Turkey's population is under 32, which forms a youthful workforce with a strong potential. When compared to the EU countries, Turkey is the country with the highest youth population. (Source: )
About Turkey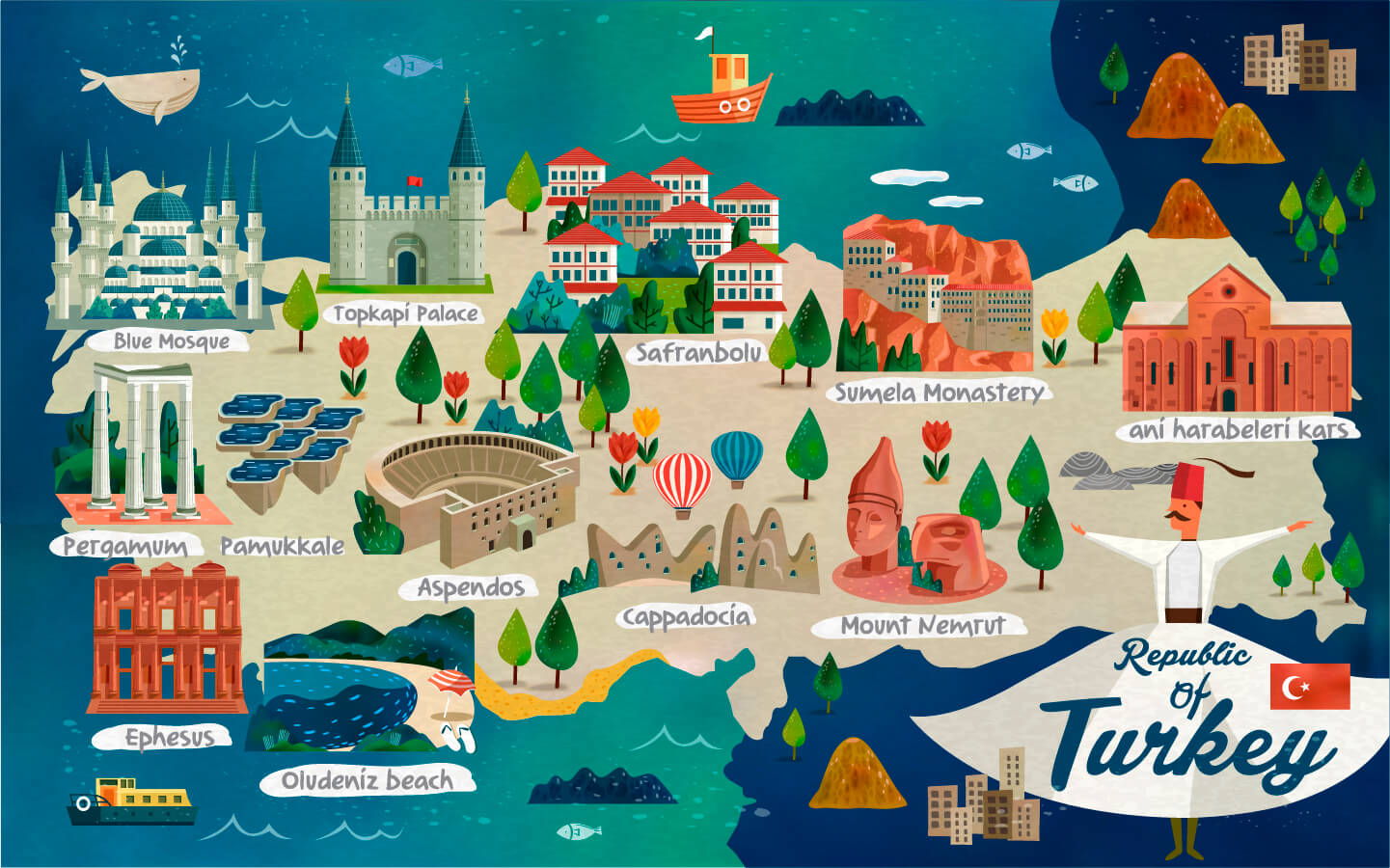 | | | |
| --- | --- | --- |
| Capital | : | Ankara |
| Official Name | : | Republic of Turkey |
| Official Languages | : | Turkish |
| Government | : | Unitary Presidential Constitutional Republic |
| Geographical Location | : | Turkey is located on the geographic coordinates of 36° – 42° North latitude and 26° – 45° East longitude. It is on the northern side of the Equator and the eastern side of Greenwich, the prime meridian. |
| Area | : | 783.562 km2 |
| Population | : | 82 Million (Source: 2019, Eurostat  ) |
| Currency | : | Turkish Lira (TRY) |
| Time Zone | : | UTC+3 |
| International Calling Code | : | +90 |
| Driving Side | : | Right |
| Internet Domain Name | : | .tr |